The Annual Meeting and Election of Officers was held on September 14, 2011 at 12:00 noon in the Faculty Dining Room.
---
Jessica M. Davis, Ph.D. presented her talk entitled, "Designer Drugs: Rational Design of Anti-Inflammatories" on November 17, 2011. This was was held in the School of Nursing Auditorium.
---
On Monday, February 13, 2012 Distinguished Lecturer, Ted Goebel, Ph.D. presented his talk entitled, "The Ice-Age Dispersal of Humans to the Americas: Do stones, bones, and genes tell the same story? "
Additionally, his visit included guest lecturing in Dr. Lacy's AY 10 Intro to Four-Field Anthropology course and a lunch with students interested in his research.
---
Clare Booth Luce professor, Dr. Shanon Reckinger, Assistant Professor in the School of Engineering was welcomed on March 28, 2012 by a reception held in the Ballarmine Great Hall. Prior to the reception, Dr. Reckinger gave a presentation on her research topic, "Advanced Numerical Methods for Ocean Circulation Modeling." She is currently teaching fluid dynamics and numerical methods at both the undergraduate and graduate levels at Fairfield University.
This event was co-sponsored the the School of Engineering.
---
On April 23, 2012, guest speaker M. Alfred Wiedow, Ph.D. presented his talk in the Library Multimedia Room entitled, "Endocrine disrupters: From an industrial toxicologest perspective." After the talk, interested students continued discussions with Dr. Wiedow with lunch provided.
---
The 12th Annual Student Poster Session was held on Thursday, April 26, 2012 from 3 to 5 p.m. in the Barone Campus Center. This event was once again held in conjunction with the Undergraduate Research Symposium sponsored by the Office of Academic Engagement. This years event proudly featured 39 projects involving 81 students in scientific research. Enjoy the slide show here!
The final event of the academic year was held on Wednesday, May 16 in the Alumni House Brennan Room. Twelve senior students were installed during the Sigma Xi Reception and Induction Ceremony. A slide show of this event will be available shortly.

2012 Student Inductees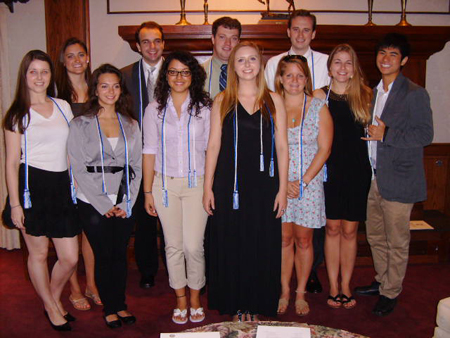 Anne Elise Drozdoski, Jessica Karanian, Bianca De Angelo, Muller Gomes, Lisbeth Reyes-Fondeur, Michael Whitley, Nicole Mole, Kathryn Bimson, Will Haffey, Jessica Gilpin, Kekoa Taparra.
Missing from photo: Kevin Sherman