---
Broadening Access to Science Education
July 9-13, 2007
Fairfield University
BASE Camp 2007 was funded through grants provided by the Louis Calder Foundation and the Maximilian E. and Marion O. Hoffman Foundation. We are grateful to these foundations for making this experience possible for these students.

Students worked in small groups on research projects led by Fairfield University faculty. The projects exposed students to important topics in science, experimental design, current laboratory methodology, and data analysis.
The one-week day camp was free of charge to students. Transportation and lunches were also provided.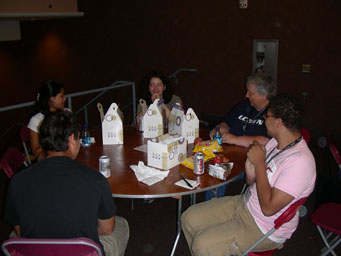 Student participants and faculty enjoy lunch.
---
The Projects
Project #1 - Psychological Research Project on Choices and Preferences
Shannon Harding & Linda Henkel (Psychology)
We are faced with a dizzying array of choices everyday. How does one go about making choices, and what are the consequences of those choices? This project will examine choices and preferences in two very different populations to explore how scientists can study choice in beings that can talk and directly communicate their thoughts and those that cannot. This project will involve designing two research studies, one with human beings and one with mice. These two interrelated projects will unveil the science underlying psychology.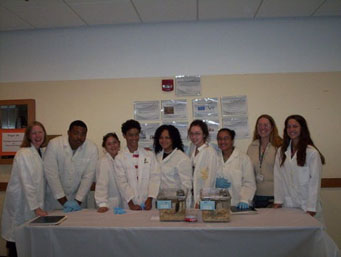 Participants (in no particular order): Professors Shannon Harding and Linda Henkel, Students: Eris Banegas, Marisol Garcia, Kyle Poveromo, Shaymaa Salama, Ariella Sanchez, Sudie Simmons and Bryan Taylor
---
Project #2 - A Study of the Movement Patterns of the Asian Shore Crab
Diane Brousseau (Biology) & Laura McSweeney (Math & Computer Science)
This project will be a Marine Biology field project which studies the movement patterns of the Asian shore crab. (An important characteristic of an "invasive" species is the ability to move rapidly to colonize new environments). We will use tag and recapture techniques to generate crab mobility data which the students can then use in the statistical component of the project. The students will spend the afternoons in the field collecting, releasing and recapturing crabs, and mornings in the lab tagging and measuring their crabs, and doing data analysis.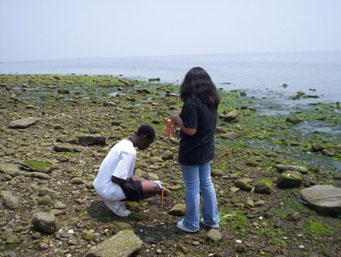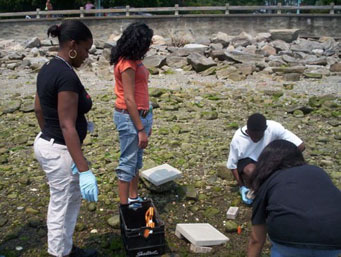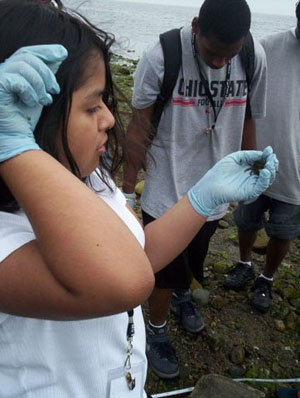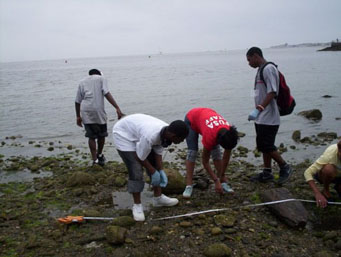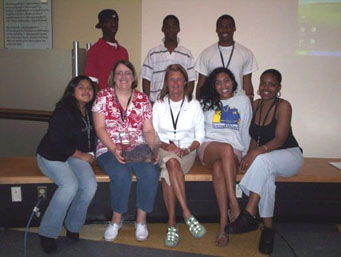 Andre Bruce, Rubens Saint Paul, Jouleono Upshaw
Lilia Ricci, Laura McSweeney, Diane Brousseau, Nicole Enriquezi, Kelly Vasquez
---
Project #3 - The Mathematics in Origami
Vera Cherepinsky (Math & Computer Science)
Students will experiment with constructing geometric structures out of Sonobe and PHiZZ units, and will test hypotheses on possible shapes that could be attained, the number of units required to construct specific geometric figures, coloring the resulting structures, etc.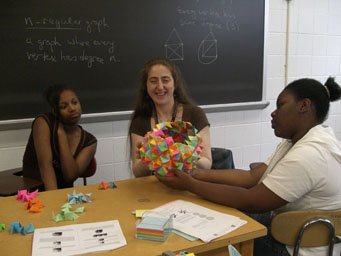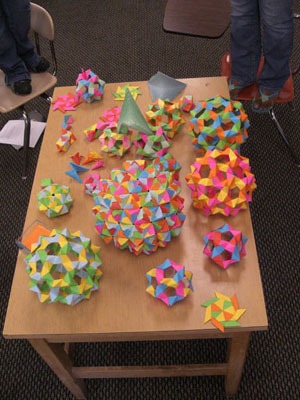 the method....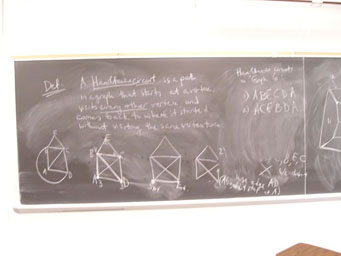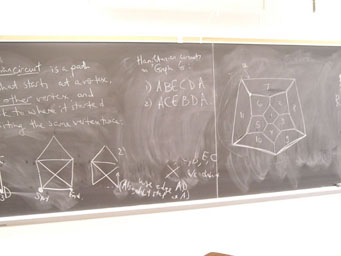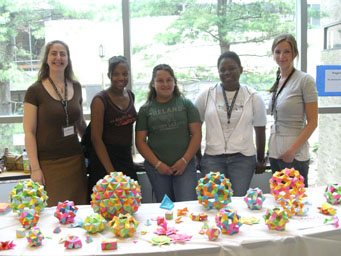 Professor Vera Cherepinsky, Tavia-Simone Bascuine, Jenevelyn Carney, America Vargas and Meghan Dancho
---
Project #4 - Detection of Cosmic Rays
Angela Biselli & Joachim Kuhn (Physics)
This research project will consist of setting up a system capable of detecting cosmic rays (scintillators, electronics and data acquisition) and measuring the distribution of the time of arrival of two or more cosmic rays. These distributions will be compared to the expected distributions predicted by the Poisson statistics.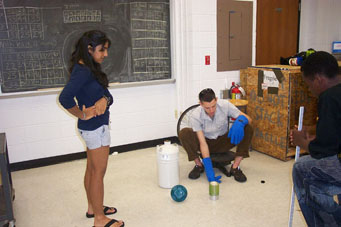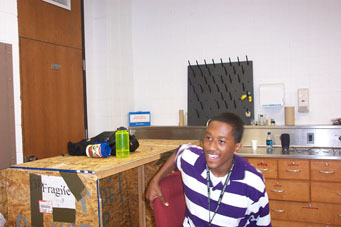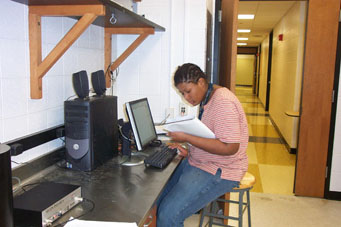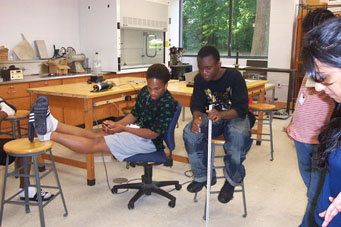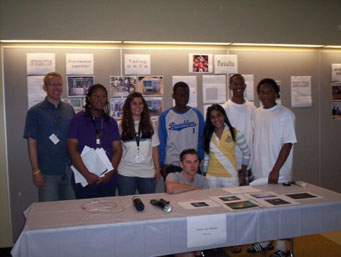 Joachim Kuhn, Brittney Wiley, Angela Biselli, Antoine Gary, Iven Sherman, Kenneth Sinclair, Mike Talmadge
---
Project #6 - Investigating the Nutritional Content of Various Foods
Jessica Davis (Chemistry)
Using several different popular foods, students will determine the calorie, vitamin C, fat, sugar, and protein contents. Students will learn some basic chemistry as well as some basic nutrition.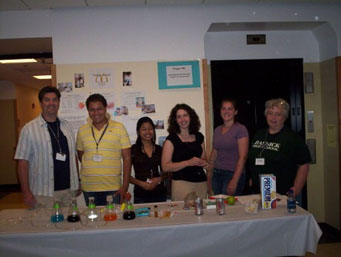 Professor Biardi, Rafael Parussolo, Denisha Moktan, Jessica Davis, Erin Culbert and Marilyn Pearson
---
Project #7 - Turning Waste into Fuel: Synthesizing Biodiesel from Food Waste
L. Kraig Steffen (Chemistry)
This project will give students an opportunity to learn about Biodiesel as a new fuel and have the opportunity to do some simple laboratory synthesis to make a small batch of Biodiesel. We will then try to run a small diesel engine on our fuel! We will explore energy issues and the need for alternative fuels.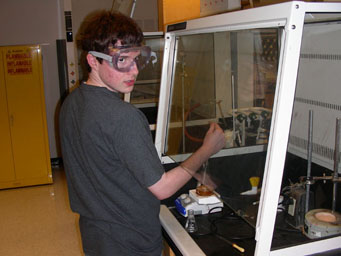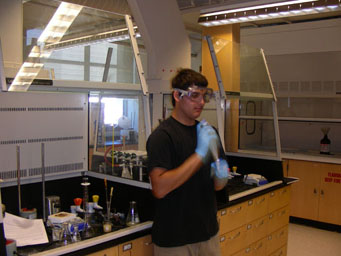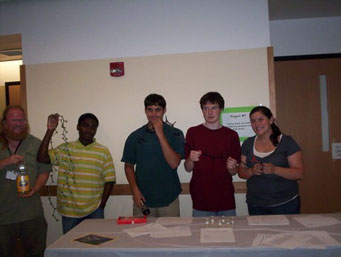 Professor Steffen, Alwyain Carter, Matthew Krischlunas, Jeffrey Sisler and Andrea Della Pelle
---
The Poster Session
The week ended with each group presenting their research at a poster session.
Family, friends, fellow students and faculty from the high schools and Fairfield University attended to hear about what the students accomplished during the week and to enjoy refreshments.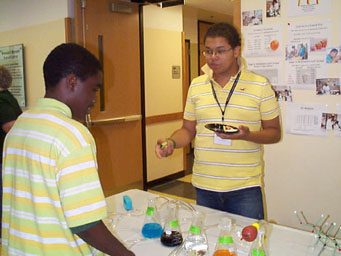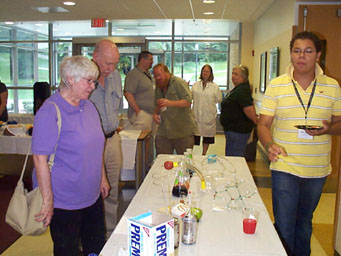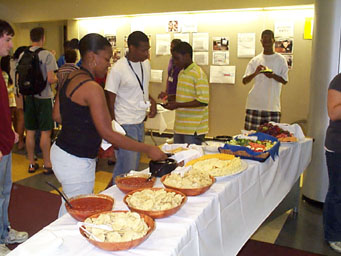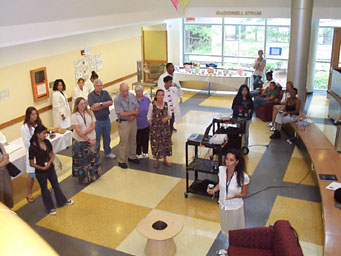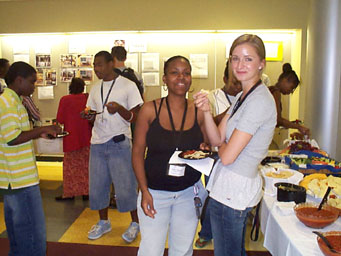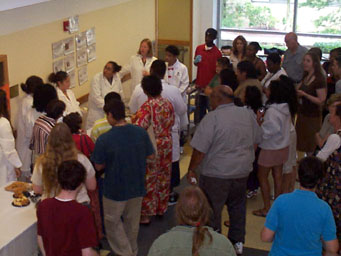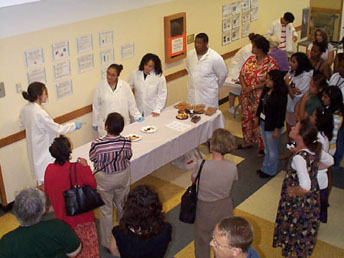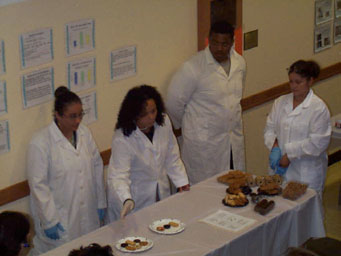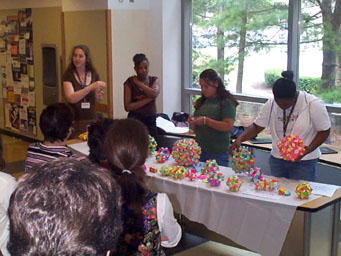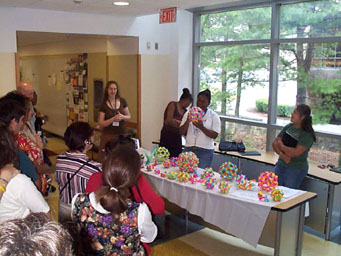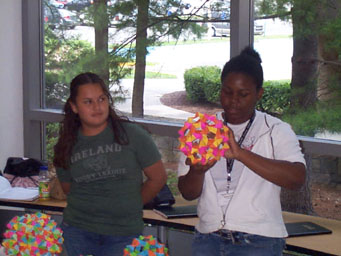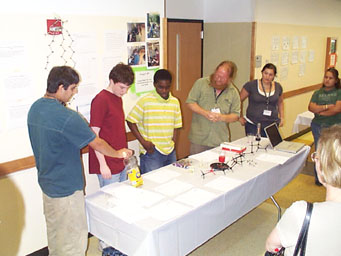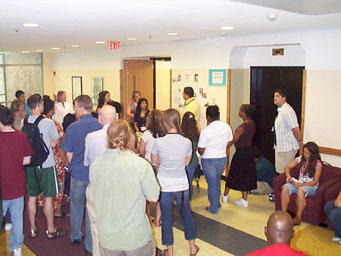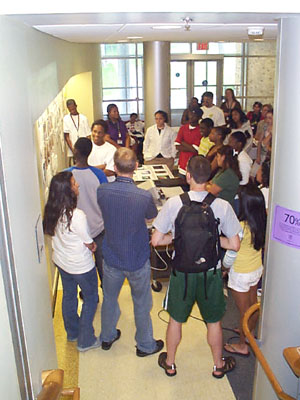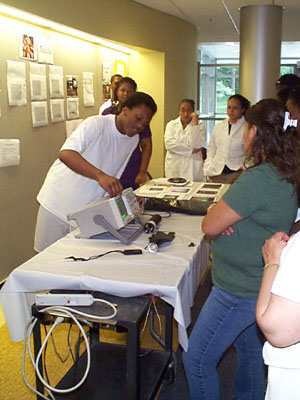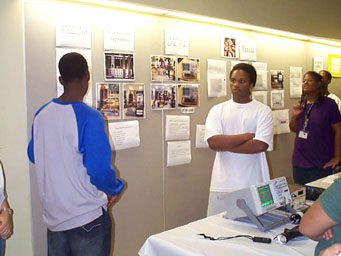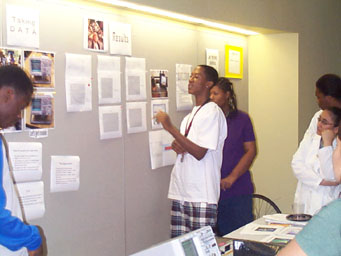 ---
ALL WORK AND NO PLAY.... NO WAY!