Fairfield University Chapter

Sigma Xi, The Scientific Research Society
Fairfield University Chapter, News
---
April 13, 2000: Initiation Ceremony a Success!
---
October 3, 2000: The First Annual Sigma Xi Poster Session was a huge success. To see images and titles of the posters, click here - 18 posters. Posters from almost every department in the sciences were presented.
---
January, 2001: Senior biology major Katherine Hahn received a grant from the national Sigma Xi organization. Congratulations to Kate and her advisor Dr. April Hill for all their hard work.
---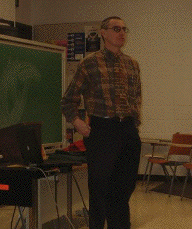 February 1, 2001: Dr. Colin Campbell (Class of '81) kicked off our distinguished lecture series. Colin is an Associate Professor at the University of Minnesota, and currently serves as the Director of Graduate Studies in Pharmacology. His talk entitled "DNA repair and cancer predisposition in humans" was well attended and received.
---
March 28, 2001: Dr. Bruce R. Johnson from Cornell University discussed neurobiological aspects of synaptic modulation of the circuitry of a small motor network in lobster by dopamine, serotonin, and octopamine. His talk "Cellular mechanisms of neural network plasticity" was held in Bannow 137 at 7:30 p.m.
---
March 29, 2001: Noted mathematician Dr. Joan Birman, of Columbia University presented a talk entitled "Parameterized knots." Dr. Birman is one of the top mathematicians in the world, and is a leader and role model of the mathematical community. Dr. Birman works on Topology (especially knot theory). Her talk was held in the Dolan SOB Dining Room at 4:15 p.m.
---
May 11, 2001: Sophomore (soon to be Junior) physics major Matt Smylie received a grant from the national Sigma Xi organization. Congratulations to Matt and his advisor Dr. Nancy Haegel for this award, and we look forward to following this work over the summer and into the next year.
---
May 17, 2001: Year-end reception was a well attended event. Highlights from the past academic year were discussed, and future directions for our chapter were planned. Student inductees were recognized by the chapter. Check out images from the event.
---
Return to the Fairfield Sigma Xi Chapter Homepage.