Pending funding by the National Science Foundation, the Fairfield University Research Experiences for Undergraduates Program in Mathematics and Computational Science is an eight-week summer program that provides active and original research opportunities for undergraduates. Student participants will work in small groups on focused research topics under the guidance of a Fairfield faculty mentor. We provide stipends and free housing on Fairfield's campus located just north of New York City. more...
Projects 2014
This year's program runs from June 2, 2014 - July 25, 2014.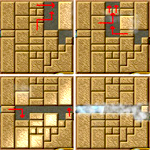 The Davenport Constant and the Theory of Non-Unique Factorization
Faculty Mentor: Paul Baginski
In other systems of numbers similar to the integers, numbers can have two or more different ways they can factor as a product of "prime" numbers. Understanding the variation in factorization involves studying a structure called the block monoid (a careful google search for "monoid" produces the picture at left), which turns factorization problems into addition problems about sequences. more...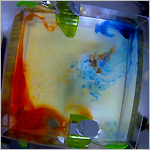 Wind Driven Ocean Gyres in a Square Basin
Faculty Mentor: Shanon Reckinger
The global ocean is a complex, multi-scale, time-varying system. Wind driven ocean gyres in a square basin can be studied analytically, numerically, experimentally, and observationally. This project will explore all of these methods with a particular focus on comparing the numerical solutions of the governing equations to the experimental findings using a rotating tank. more...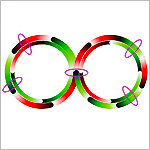 Topological Fixed Point Theory
Faculty Mentor: Chris Staecker

The main invariants in topological fixed point theory are the minimal number of fixed points, and the Nielsen number which was defined in the 1920s. Students in this project will learn the basics of Nielsen theory on surfaces, specifically looking at properties of the Nielsen and minimal numbers when the function is chosen at random. more...
This material is based upon work supported by the National Science Foundation and the Department of Defense pending funding renewal.